"An Audiobook With Heart From All Across The World! Every Character Has Their Own Voice."
Luke McKeel – Narrator
Lexington, KY
Your guide along the road from the dawn of man, to its darkest days, is the delightful voice of actor Luke McKeel. Through every twist and turn, high and low moment, Luke is the one who will be playing your heartstrings with all the precision of a professional violinist with his charming voice and storytelling talents.
"I first discovered my passion for acting in 2010, through staged readings of Shakespeare's plays as part of my undergraduate studies in English literature. I have never been the same since. However, my journey as a voice actor did not begin until 2018, when I finally took the advice of many friends and colleagues to pursue a voice over career. Since then, I have had the wonderful opportunity to work on a handful of video games, audiobooks, and other independent projects. I am currently narrating audiobooks on a nearly full-time basis, and I cannot wait to discover the road that lies ahead as I pursue additional opportunities in both animation and video games."
Abigail Wahl – Ally
New York, NY
Originally from Canton, Ohio, Abigail moved to New York City to study acting and fight directing at NYU. Combining the two after graduation, she provided voices (and oh so many death sounds) for characters in a few indie video games and has worked in voiceover ever since! When not in the booth, Abigail loves re-watching Lord of the Rings, playing video games with her younger brother, fencing, and listening to audiobooks (not all at once, though that would be interesting).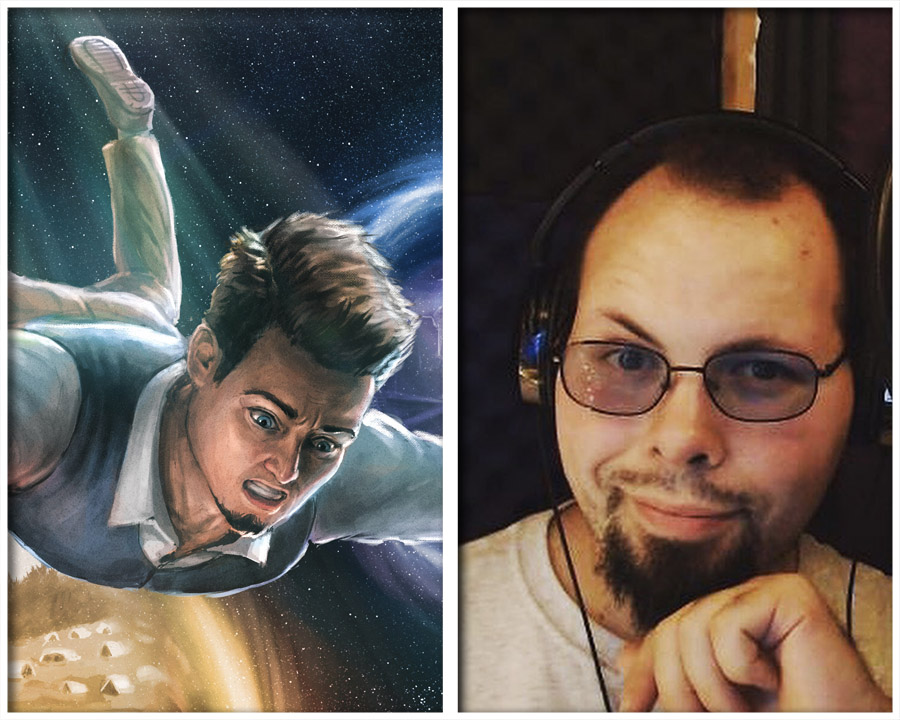 Carl G Brooks – Sem
Arlington, TX
A resident of Arlington, Texas, Carl Brooks provides the voice of the Guardian across worlds, along with an abundance of other characters dating back to 2012.
"I provide quality voice over, rescue animals, play drums and rewatch Spaceballs hours on end. My wife and I watch a lot of indie horror films in my house. The house four favorite are Hell House LLC, Baskin, The Taking of Debrah Logan and Dark Signal. I build enclosures and apparatus' for people and animals and have been baking fresh voice over since 2012."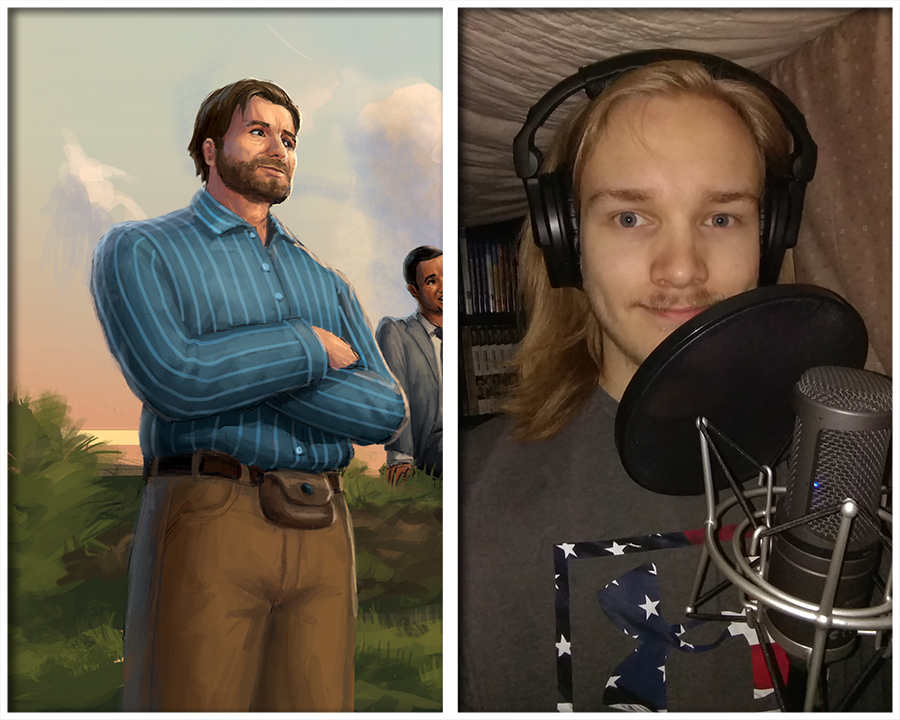 Logan Wajer – Otto
Southwestern Minnesota 
A resident of southwestern Minnesoa, the voice of the dedicated father looking to return home to his wife and two daughters is played by none other than the actually rather young and talented voice actor, Logan Wajer. Having started his journey into the wondrous world of voice acting in 2017, Logan spends much of his free time watching classic films such as Jurassic Park, Lord of the Rings, and Prince of Egypt, and listening to podcasts like the Ricky Gervais Show.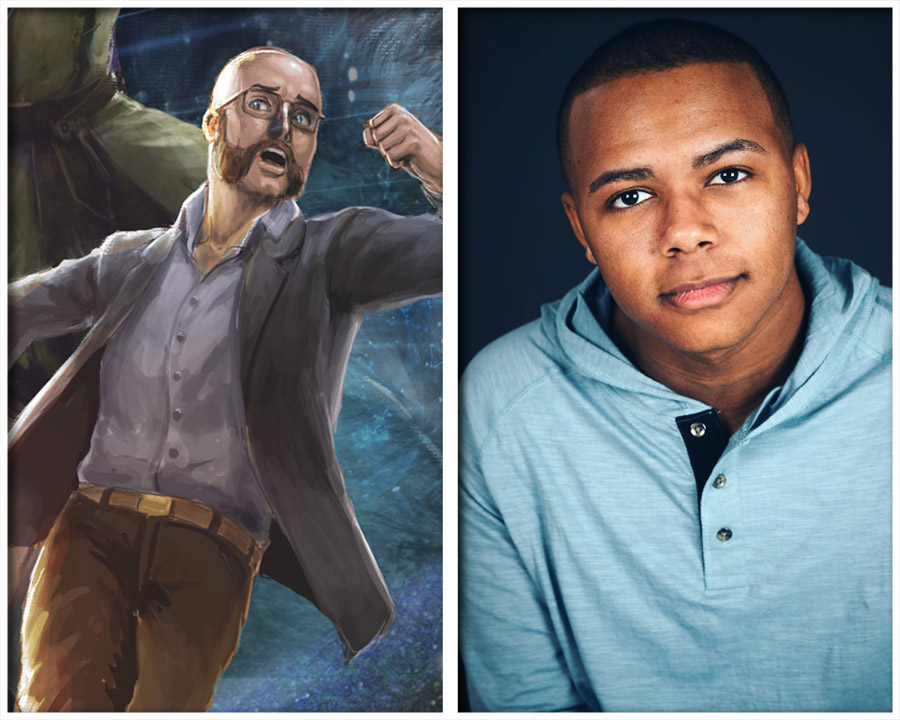 AJ Beckles – Merek
Boston, MA
As Sem's friend and personal inventor, Merek is both devoted and dedicated to his craft. Same could also be said about the very man who plays him, AJ Beckles.
"I'm a 20 year old Boston Massachusetts based Professional Voice Actor. After finding my passion for acting at 18 years old, I haven't looked back. When not in the booth I am often found drawing, or playing basketball with some friends. I'm also a self proclaimed Anime and Videogame enthusiast!"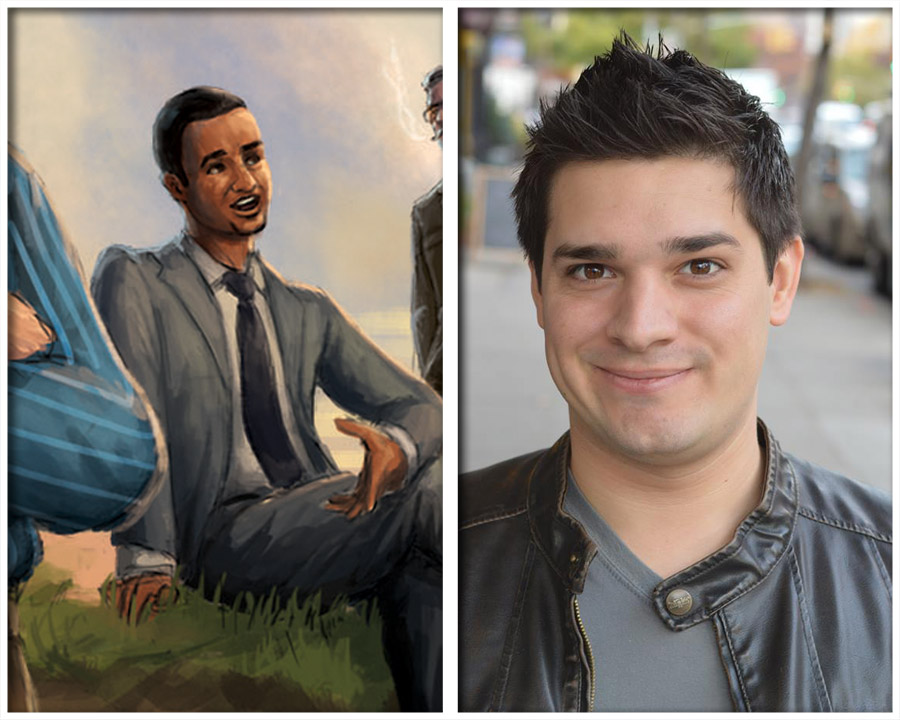 Nick Eriksen – Leo
New Jersey
A stage actor and published illustrator from New Jersey, Nick Eriksen plays the voice of the nervous politician and Sem and Ally's closest friend,  Leo. 
D. Tyler Fultz – Raz
Pennsylvania, PA
"I'm part of a nomadic family, living in several states throughout my life such as Indiana, Michigan, Virginia, Nebraska, and Ohio. Currently, I'm a Pennsylvania resident. I work odd jobs at retail and my favorite book is "Revenge of the Sith" by Matthew Stover. My favorite movie is the Pixar film "UP and I like wholesome video games, reading manga or comic books, writing short stories, and binge-watching an occasional animated TV show. I've been interested in voice work since I was fresh out of high school, but I've been taking serious actions toward it since 2012-2013."
Deryn Oliver – Vila
Shropshire, UK
"I live in the county of Shropshire In the UK which is on the border between Wales and England and is very rural and pretty. I am am married to Richard and have two grown up step sons.
I love animals and have a dog and a cat and love walking every day.
I have been acting for over 25 years, mainly in amateur stage productions and started VO work after a chance remark by a television producer when I appeared on a quiz show. I won the show and decided to act on the advice that I would make a good VO artist as I had been looking to change my career. Here I am a year and a half later a full time VO and loving it."
Stephen Lester – Teech
Fort Worth, TX
The voice of the trouble making leader of  the New York misfits of tomorrow, Stephen is a voice actor, musician, and finance professional based out of Fort Worth, Texas. Since he was a teenager, Stephen had always had a dream of being a voice actor but having a persistent stutter made him feel like that dream was unobtainable for many years. Finally in January 2018 he decided to take the plunge and hasn't looked back since! Stephen's passions outside of voice work are serving at his church by playing in the worship band, retelling Bible stories to kids in fun and creative ways, and spending quality time with his wife as they (as of this writing) eagerly anticipate the birth of their first child. If you would like to contact Stephen you can reach him at 
stephenlestervo@

gmail.com
Luc de Villars  – Chris
Lyon, France
Our chivalrous outcasted crusader, Chris, is played by none of other the infamous Luc de Villars.
Luc de Villars is a French voice actor, although he has been working quite a lot on his English. When others told him it was simply mad to believe he could voice actor with no acting background and not even in his native tongue, Luc's response… "Swell!! Where do I sign up and can I start now?"


Now his voice can be heard within several commercials and video games such as Desolate, Flappatron, Reversion, World Ward 3 , Slacklusters, all within less than a year with even more is to come. A true actor to the call, Luc is passionate and full of madness, enjoying the splendors of storytelling as a new and rising voice in the world of voice over.
Harry Petrie – Alexander the Great
United Kingdom
The voice of the broken hearted king of Ancient Greece, as well as a newcomer to voice-acting, Harry Petrie is an English performer who has mostly worked in amateur theatre previously. 
One day however, he plucked up the courage to "borrow" his brother's recording equipment and try his hand as a VA.
So far he is having a blast yelling and making strange noises in his room, greatly worrying everyone in the house including his numerous cats.
When not pretending to be other people Harry enjoys video games and D&D, which are also about pretending to be other people, but slightly different.
James Smillie – Erland
Scotland
The first of the Guardians, and father to the ARC, our ghost between worlds is played by none other than the talented James Smillie. Dynamic and versatile, James Smillie has had a distinguished career on stage, screen and behind the microphone.
James hails from Scotland and honed his consummate skills as a voice artist while working as a fully contracted radio actor, perfecting his wide range of vocal talent in age and accents and characterization; all of which has led to a stand out career as one of the most sought after voiceovers in the industry.
jamessmillie.com
Harrison Bulman – Ptolemy
England
Harrison Bulman is a Voice Actor and podcaster based in the South East of England. A lifelong performer, Harrison came into Voice Acting in 2017 after years of working on stage and recording an album as singer of the heavy metal band Below Defect. 
Harrison's voice can be heard all across the internet, including his weekly appearances on the Fulcrum Report podcast. You can find a full list of work and contact details at 
harrisonbulman.com
JD Kelly – Walter Steel
Gloucestershire UK
JD Kelly is a voice actor based in Gloucestershire UK in the heart of the Cotswolds and plays the voice of the odd yet lovable professor, Walter Steel. He has been voice acting for over 7 years, with over 100 Audio books on Audible, and numerous video game and commercial roles in his work history. JD is a singer and musician in his band "Up Shot," playing bass for female singer/songwriter, Verity White. He loves fantasy novel authors like RA Salvatore, David Gemmell, Raymond E Feist & JRR Tolkien
Photo by TrevPiPhotography
Quentin Ballif  – Eirk/Doctor
Paris, France
"Born next to Paris, in France, I discovered theatre in the small cities public party halls. When I chose to do theater as a living, I went to Paris center and learned with Bernadette Le Saché, former pensionary of La Comédie Française. In 2019 I graduated and I now have my National Superior Professional Acting Diploma. 
I'll be touring round Europe in 2019-2021 with the play Dom Juan ou le Festin de Pierre, directed by Lorenzo Malaguera and Jean Lambert-Wild. I like the screen too! I played a couple of time for French public television."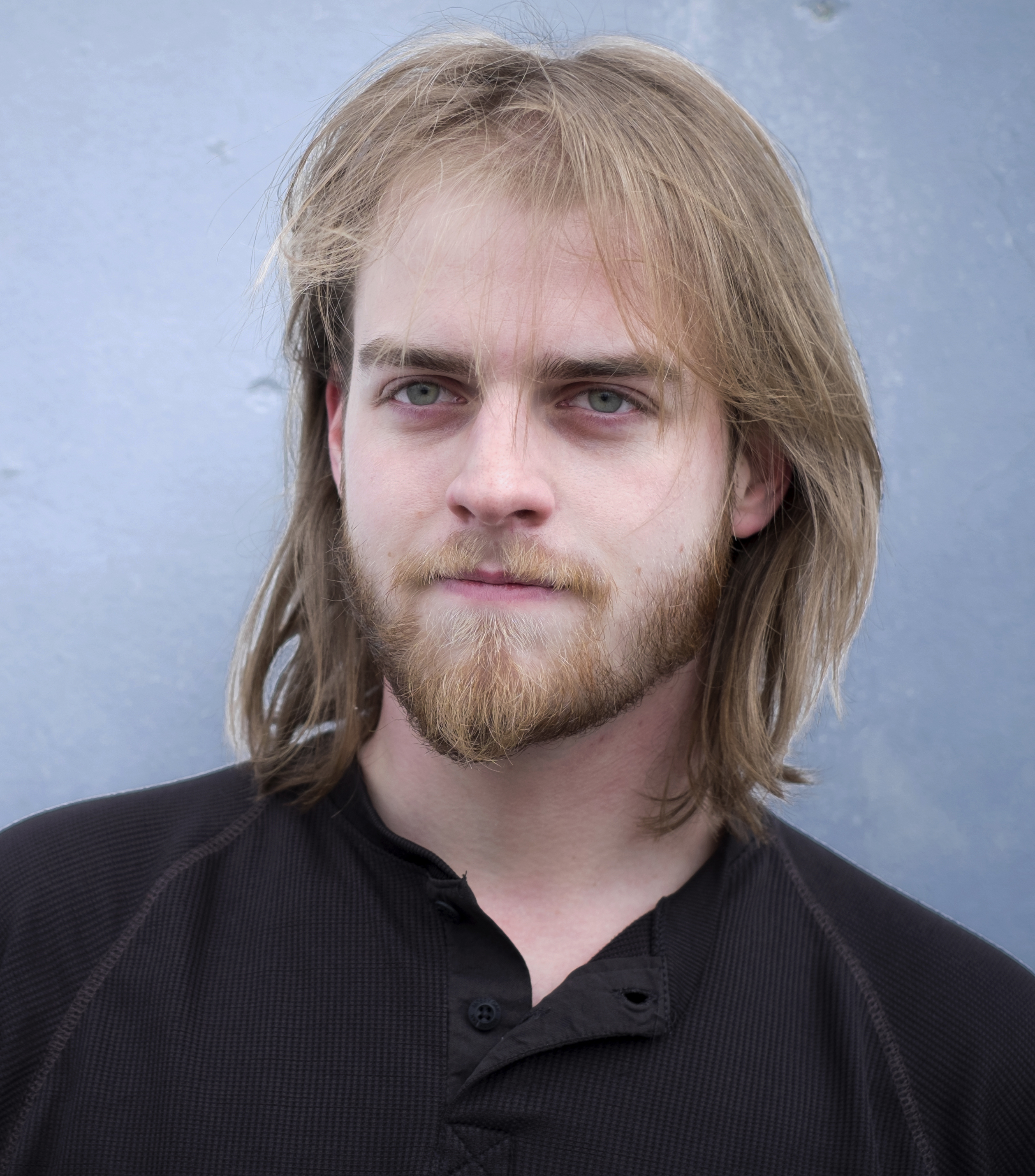 Tom Schalk – Thomas McNeal
Long Island, NY
A native of Long Island, NY, Tom Schalk has been a voice actor since 2011, lending his voice to video games, radio dramas, animations, and so much more. Having graduated with a bachelor's in Media Studies & Communications, he has a background in production, working as a PA/grip and a sound designer for voice demos and video projects. Tom also creates his own content utilizing his skills in voice work, writing, and video/audio editing. In his free time, he adventures in the city and occasionally enjoys board games, weird indie games and anything involving Star Wars.
Michelle Renee – Carley
Los Angeles, California
"I'm a Christ-following actress based in Los Angeles. I am currently aspiring to do professional musical theatre but my first love was voice acting, and I got my first microphone when I was fifteen. My first professional voiceover gig was early 2016 and since then I've been getting them on occasion. My biggest passion is reaching out to show others that God loves them, and that even Christians can be cool without judging others haha! I'd say my favorite pieces of literature are the first versions of classic fairytales."
Josh Dyton – Kyle
London, England
"I'm Josh Dyton from Feltham, London . I'm fairly new to voice acting personally but I've always had an interest in it. Two of my voice acting heroes are Nolan North and Troy Baker. Voice acting has always fascinated me and id even find myself trying to voice characters over the screen whilst playing games and watching anime.I have a passion for acting too, I am actually in a short film that i am waiting to be finished which is quite exciting. Also back in 2009 i used to have a YouTube channel with my brothers called TheDytonBrothers that reached over 30,000 subscribers in 5 months. I'm currently a landscape gardener, but my heart has always been in entertainment so here I am, making a stand and trying out every avenue possible. (Who wouldn't want to hear their own voice in a video game, audiobook etc?)"
Conner Miranda – Zip
Orcutt, California
"Hi there! My name is Connor Miranda, I was born and raised in sunny Orcutt, California. I've been doing voice over work for a few years now and found my love for it my second year of college. Originally I had planned to do computer programming but I turned out to be awful at it, hovered around for a but, and eventually I gravitated towards acting classes and now here I am! It was never a career I had envisioned for myself when I was younger, but now that I have it I love every second I get behind the microphone. I aspire to give back to others should I find great success in this career field, and to do the best job I can no matter what character I have to portray."
Kyle Rhys Marsh – Twig
Northern Wales, UK
"I am from North Wales and am currently living in Warwickshire, England. I have been fascinated with voices and the people that do them for as long as I can remember. One of my biggest inspirations is my dad, who would tell me stories of Greek mythology, and voice the animals in nature documentaries to make me laugh as a boy. And of course my wife, who pushes me to be better every day. If not for her, I probably wouldn't be on this journey.
When not voicing things and working at my day job, I enjoy video games, cycling and drinking lots of coffee.
Don Jacob – Ally's Father
New Orleans, LA
"I'm from New Orleans, I've been living in the beautiful hills of Kentucky for the last 18 years. I'm a 16 year veteran of the US Navy Seabees. My favorite books are the Horatio Hornblower series by C.S. Forester and Blue Highways by William Least Heat-Moon. When I'm not doing voice work I make custom furniture and have 3 dogs that sometimes let me share the couch."
Judy "Jetset" Barbosa – Krista
New York, NY 
Judy "Jetset" Barbosa is a New Yorker with a side of Brazilian and Mexican, who works in Technology by day and fuels her nerdiness by night through various things: video games (heard of League of Legends?), board games, D&D, the works. Voiceover is her dream job, she's been at it for over 2 years, and she's very happy to be in this book! Her favorite movie is definitely #teamLionKing. Find her on twitter @ 
twitter.com/jetset_
!
Margaret Ashley – Ally's Mother
England
Amélie Fourreau – French Woman
Lyon, France
The voice of the young lady of Lyon, Amélie Fourreau, 31, is a french actress who teaches drama (in french and in english!) in the beautiful city of Lyon itself. Amélie has been working as a voice talent for two years, always seeking new thrilling adventures.
Chandler Carter – Ben
Colorado
Chandler Carter hails from Colorado where he is a professional singer and film school student. He has been a stage actor for the past three years and has recently discovered his interest in voice acting! He enjoys streaming on Twitch and watching movies (current favorite is Incredibles 2).